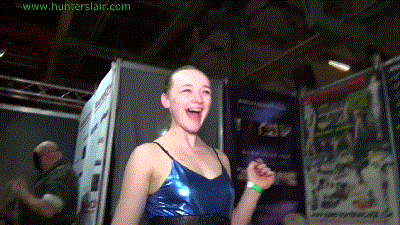 135 photos; 11:58 video
starring Captured Kerry
bondage, damsel in distress, high heels, upskirt, shiny, fishnet stockings, leather cords, tied elbows, ballgag, on screen gagging, gagged girl, struggling, hogtied, BDSM
During BoundCon in Munchen, Germany pretty Scottish girl wanted to be tied up by the Hunter. (The clip is shot in the demonstration booth at the convention in front of a live audeince on the convention floor so there is a lot of ambient background noise) Kerry walks in wearing a shiny blue mini dress, stiletto heels and fishnet stockings. She introduces herself and the Hunter asks her questions as he begins to tie her up with thin leather cords. It is Kerry's first time being bound in leather cords so her reactions a nature as her elbows are slammed togeher and tightly bound in the leather cords. She explains how she feels as the cords bited deep into her flesh as he weaves the cords down her forearms to her wrists. Kerry is all smiles as her arms are welded tightly together behind her back. The Hunter sits her in a chair and continues to interview her as her shapely legs are tied tightly together with more leather cords around her ankles and knees. He then pulls her to her feet, Kerry struggles to keep her balance in her stiletto heels as the Hunter ties a leather cord around her waist then pulls it down between her legs. She smiles as the cord between her legs is buried deep in her fishnet pantyhose as the Hunter ties the end of the crotch cord to her tightly bound wrists. She squeals as he sits her back down on the chair causing the cord between her legs to be pulled taut. He then asks her what her favorite gag is and she says that she loves ballgags. The Hunter pulls out a big red ballgag and pushes it between her teeth and straps it in tight. Kerry struggles helplessly on the chair, loving the feeling to the tight leather cords biting into her flesh. The Hunter then moves her to the floor and ties another leather cord between her bound stiletto heels. The cord is then run from her heels to the back of her ballgag. The Hunter pulls her head back as the leather cord between her heels and ballgag is pulled bowstring tight. The ballgag is pulled deep into her mouth by the tension of her bend legs. He leaves her struggling helplessly on the floor as she tries to roll over. "But the bondage is too tight she can barely move, the Hunter then pulls her up onto her knee points and asks if she has had enough. Kerry cries into her gag as she looks up at the ceiling, she has never felt so helpless.