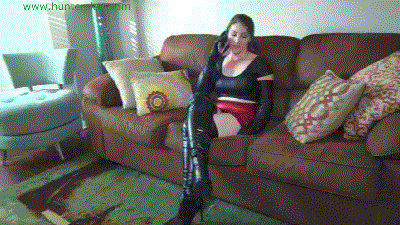 71 photos; 8:37 video
starring Terra Mizu
bondage, damsel in distress, rope, over the knee boots, upskirt, big tits, shiny spandex, leather opera gloves, struggling, tied elbows, chicken wing, panty gag, cleave gag, hogtied, BDSM
Terra was excited to finally about the huge rave party at the beach house she was going to attend all weekend. With her Dad out of town on business and her little twerp step-brother away at boy scout camp she was free. She sits on the sofa dressed in her rave outfit, stiletto over the knee boots, skin tight shiny spandex mini skirt and crop and a pair of leather shoulder length opera gloves to complete her look. She sits on the sofa waiting for her Uber chatting with her boyfriend about the great time they have planned. He pulls a bag of weed out of her crop top and smiles, they are going to get so high this weekend as she tells him that she also managed to grab one of her dad's credit cards to pay for everything. She is startled when she hears a noise then looks up to see little Timmy recording her with his cell phone. WTF is he doing here? He is supposed to be away at boy scout camp, she hangs up the phone and gives little Timmy a sheepish smile, she knows he caught her redhanded but tries to convince him that she is innocent. But Timmy isn't buying it and threatens to tell her dad and show him the recording. Terra has to think fast, what can she offer him in exchange for forgetting everything and erasing the video? Timmy then tosses his sexy, slut step-sister a pile of rope. Terra picks up the rope with a confused look on her face as he tells her that if she helps him practice his boy scout knots for his merit badge he will not tell. Terra doesn't see that she has any choice but makes him promise to forget everything and go to camp when they are finished. Now she is sitting on the sofa with her arms tightly bound behind her back. Her long booted legs are fused together with ropes around her ankles and knees. She can feel the tight ropes biting deep into her upper arms and her elbows kissing together behind her back and her wrists are tied. The soft leather gloves offer her little protection from the tight ropes. He wrapped ropes around her shoulders and ran the rope down her back and between her wrists. Her wrists were then jerked up high up her back and tied with more ropes around her waist, pinning her hands to the small of her back and her bound elbows jutting out away from her back. She struggles on the sofa calling for Timmy to come back and untie her, the little twerp disappeared after he finished his knots and left her struggling helplessly in the ropes. She pulls at the ropes but they are extremely tight, she has never felt so helpless in her life. What are they teaching boy scouts these days anyway? She pulls desperately at the ropes, her Uber will be here soon and she needs to be freed. She calls again for Timmy to get back in here and untie her but he doesn't respond. Terra struggles off the sofa and onto the floor but with her arms uselessly bound behind her back crawling is not an option. Then Timmy finally comes back into the room talking on her cell phone. Terra demands he untie her immediately and give her back her weed. Then she overheads him talking to his boy scout friend as he invites him and the troop over to see what he has done with his slutty, stuck up step-sister Terra. Terra knows that his little friends have stared at her tits and ogled at her hot body and she loved to taunt and tease them. But now they are coming over and she is helplessly bound, this can't be happening. She demands that Timmy call his troop back and tell them that they can come over and orders him to untie her immediately. But Timmy has other plans as he pulls a pair of his mom's panties out of his pocket and waves them in her face. Terra is confused at first, why is he waving her step-mother's panties in her face, then it dawns on her, he intends on gagging her with the panties. Terra tells him to stop there is no way she is going to allow him to gag her. She tries to crawl back as he laughs and waves the panties in her face then drops them on her head. Terra next finds herself tightly gagged with her step-mother's panties with elastic bandage pulled between her teeth and wrapped tightly around her head, stuffing the panties deep in her mouth. He tied another rope to her bound elbows and ran the rope down between her stiletto heels and pulled her legs up into a strict hogtie. The little bastard left her again to prepare for his troop. Terra struggles desperately on the floor, she has to escape before those boy scout get here, who knows what they have planned for her. She rolls around on the floor pulling at the ropes but it is hopeless, there is no way to escape the ropes. Then she hears a car horn sounding out front, her Uber driver must be here, she screams into her gag for help but with the panties stuffed and packed deep in her mouth she screams are muffled, no one can hear her. She continues to fight the ropes, rolling around helplessly on the floor but there is no escape she is the helpless captive of her step-brother and his boy scout buddies.