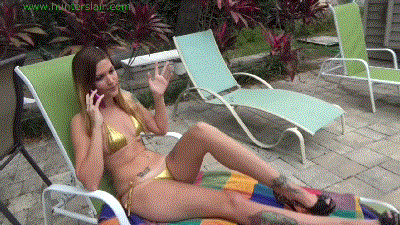 103 photos; 10:02 video
starring Ayla Aysel
bondage, damsel in distress, babysitter, high heels, bikini, rope, tied up, panty gag, clear tape gag, struggling, BDSM
With her sister out of town Pretty Aunt Ayla is stuck babysitter her bratty nieces all weekend. Now to make matters worse she had to cancel their pool party because they broke curfew, she had to ground them and they can't leave the house, use the phone or talk to their friends. Ayla complains to her girlfriend on her cell phone as she relaxes by the pool in her tiny gold bikini. It has been a while since she hear a peep out of the girl and they were supposed to bring her some water. Ayla finishes her call and then calls for the girl to bring her some water. They come out with the bottle of water giggling and laughing like they are up to something. Ayla is annoyed at their giggling, they are being punished and there is nothing funny about it. She dismisses them back to their rooms and the girls depart still giggling. Ayla takes a big drink of water, those girls are up to something, she had better check. But as she stands in her stiletto heels she is suddenly feels nausous and dizzy. Ayla's head starts spinning as she tries to focus, she stumbles back to the lounge chair to rest and get her bearings but the world keeps spinning faster and faster. Ayla closes her eyes, she can no longer feel her body then everything goes black. She awakens sometime later still groggy and disoriented. She tries to reach up for her head but her hands won't cooperate, she looks down to see ropes wrapped around her chest and shoulders, then she feels the rope biting into her slender wrists and ankles. Those little shits must have spiked her water and then tied her up while she slept. Ayla struggles on the lounge chair in her tiny bikini calling for the girls to come back and untie her. They are really in trouble now, once she get out of these ropes she is going to kick their little asses. Ayla pulls at the ropes, surely they can't be that skill at tying someone up? But Ayla quickly realizes that she is truely helpless, they cinched all the ropes and tied all the knots out of reach of her nibble fingers. Ayla sits up on the chair and demands that they come out and untie her now. But when the girls finally make an appearance they are on their cell phone, they are grounded and aren't supposed to be on the phone. The girls are giggling and ignore their tightly bound and helpless Auntie Ayla as she struggles and curses at them. Ayla hears them planning a pool party, she tells them no they can't have a party and demands that they free her from her bondage immediately. But the keep laughing then one of the girl pulls out a pair of panties. Ayla looks up helplessly from her lounge chair as they wave the panties in her face. They are too big to be one of the girl's panties then she realizes that it is a pair of her sister's panties from the laundry. The girls laugh as the panties are dropped on poor Ayla's face. Ayla has been moved to the side of the pool and tied to the pool ladder handrails. Her hands are still tied behind her back, her ankles still tied and ropes still circle her breast. The girl's stuffed and panties deep in her mouth to keep her quiet and then sealed her mouth shut with clear packing tape. More ropes were added tying her to the handrail. Ayla's neck is tied down to one rail and her hips tied to the other. She is on her knees with her ass in the air. The brats tied a rope from her bound stiletto heels and pulled her feet off the ground and tethered her ankles to her wrists so Ayla is on her knee points. She struggles desperately in the rope but it is futile poor Ayla is totally helpless. She screams into her gag but her muffled screams are stifled by the gag. There is no escape and the girls intend to keep her tied up for the party. Ayla feels humiliated, tied up and helpless awaiting the arrival of the girl's party friends. The girl are inside going through the liquor cabinet leaving poor Ayla bound, helpless and alone out by the pool.