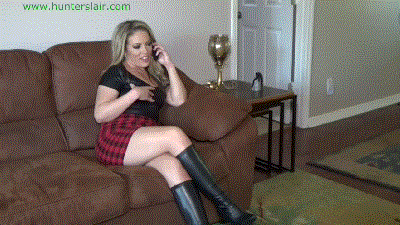 81 photos; 9:34 video
starring Carmen Valentina
bondage, damsel in distress, boots, upskirt, rope, duct tape gag, hogtied, struggling, POV, BDSM
Sexy trophy wife Carmen is sitting on the sofa chatting with her lover on her cell phone. Her husband is away at work and his kids are out playing so she feels comfortable that she is alone and can chat openly. She tells him how much fun she had on their last day and she begins to get turned on just listening to his voice. Carmen reaches down and pulls up her skirt and plays with herself as she talks dirty to her lover. But the mood is suddenly when she hears a sound coming from the closet, she hangs up the phone and gets up to investigate the noise. That is when little Timmy emerges from the closet with her cell phone recording her. Carmen has to think fast to try to lie to the little brat to try to get him to forget what he heard and to erase the recording. But little Timmy has other plans for his hot step mom. Carmen sits on the sofa and continues to try to get the little brat to cooperate. Maybe playing a game will get Timmy to change his mind. When Carmen suggest a game Timmy gets all exicited and tosses her a pile of rope. 'You want to play cops and robbers?' Carmen asks with a fake smile, she agrees to the game and begins to tie the rope around her booted ankles. Carmen now sits on the sofa with her wrists tighlty bound behind her back and her booted ankles tied tight. Timmy has disappeared after he tied the last knot leaving his hot step-mom bound and helpless on the sofa. Carmen figets in the ropes testing her bonds, she is surprised at Timmy skill at knot tying. She regrets having her husband send the little tyke to boy scout camp over the summer to get rid of him and to give herself more free time to fool around with her lover. She pulls at the ropes around her wrists but there is no escape, she calls for Timmy to come back and untie her but he doesn't answer. Carmen struggles on the sofa desperately trying to wriggle free of the ropes but it is hopless. Her legs slide off the sofa, Carmen kneels on the side of the sofa with her ass in the air and her knees on the floor. She calls for Timmy to come help her and he finally comes back. Carmen slides off the sofa onto her hip and looks up and begs Timmy to please untie her now. But she sees Timmy on the phone and asks who he is talking to, Carmen is afraid that he has called his father. But then she realizes that he isn't talking to his father but his little league friend, Carmen overhears him tell his friend to call the team and come over. Carmen is shocked, there is no way she is going to let him have is little league teammates come over and see her all tied up. Carmen tells him to call his friends back and disinvite them. But Timmy smiles at her with an evil grin and pulls something out of his pocket. Carmen demands he untie her at once and to call his team back. But then she sees what little Timmy has in his hand, a pair of her panties. What the hell is he doing with her panties? She squirms in her bondage pulling at the ropes desperately trying to get free. Then Timmy begins to wave the panties in Carmen's face and she realizes that he intends on gagging her with her own panties. Carmen is angry now and demands he stop playing around and free her immediately. But little Timmy is in charge now as he comes closer with the panties and drops them on her head. Carmen lies on the floor and little Timmy has disappeared again, but not before stuffing the panties in her mouth and sealing her mouth shut with layer of duct tape. He also added a lot more rope rendering her totally helpless. The rope is wrapped tightly around her shoulders, chest and arms fusing her arms to her back. He also tied a rope between her bound wrists and booted ankles pulling her legs up into a cruely tight hogtie. She has lost all track of time but she feels like it has been at least an hour since Timmy left her bound, gagged and hogtied. She snorts into her gag in frustration as she fights the tight ropes rolling around on the floor completely helpless. She screams into her gag for help but there is no one to hear her cries but little Timmy and he has disppeared into the kitchen to get some munchies waiting for his little league team mates to arrive. Carmen feels foolish now letting her step-son tie her up, she pulls desperately at the ropes but it is hopeless. Then she hears the dreaded knock at the door and looks up to see little Timmy open the door and let the boys in. Carmen begs and cries into her gag as the boys surround her and pull out their cell phones to record her struggles. She has no ideas what the boys have planned for her but it can't be good. She begins to cry tears of frustration and helplessness, maybe the tears will help but when she looks up though her tears she sees the boys slapping each other on the back as they go into the kitchen to get some goodies and decide what to do with their helpless captive.