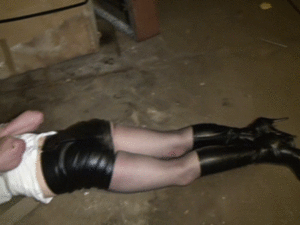 20:01 video
Starring Lauri Adverb
bondage, Damsel in Distress, boots, upskirt, reverse prayer, struggling, bound running, bound escape attempt, gagged girl, hogtied, BDSM
The Hunter carries the limp Lauri Adverb over his shoulder down into the nether world of the old abandoned basement of the old factory. Her arms are twisted up and bound into an intense reverse prayer and her mouth has been packed and vet wrap wrapped around her head and over her mouth sealing her gag in tight. She is carried into the dank gloomy basement and into a filthy room full of industrial presses. He puts her on the floor and leaves to get more ropes. After he leaves Lauri begins to wake up dazed and confused. She rolls around on the filthy floor struggling to get to her feet. After some intense struggling and without the use of her arms she manages to get onto her feet. Lauri has no idea where she is or how she will escape but she needs to try. Creeping around the dark basement she searches for an exit. After exploring a number of different rooms she finds a large steel door with sun light streaming through the frame. She knows this is the way out and runs to the door. But it is locked with a hasp and metal hook. She tries to reach the hook with her bound hands but with her arms twisted up and with no feeling in her fingers she can reach or feel the hasp. She tries to push it with her nose and face but the simple hook proves to be impossible to release without the use of her fingers. Lauri cries and moans in absolute frustration, as salvation is just on the other side of the door but it is impossible for her to get the door open. With resignation and regret she leaves the door in search of another way out. She wanders around in the dark lost, confused and desperate. Lauri finds a well lite room at last and discovers a stairway but it is too late as she runs into the Hunter. He grabs her and forces her back down the dark passage ways and back to the first room. He pushes her to the floor and crosses and ties her booted ankles tightly together. He then pulls her ankles up into a brutal reverse prayer hogtie. With her back arched and the ropes pulls bow string tight she leaves her on the filthy floor completely helpless.