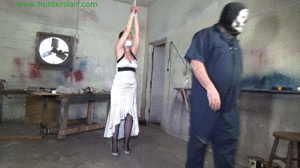 73 photos; 9:08 video
Starring Lexi Lane
bondage, Damsel in Distress, high heels, satin, big tits, rope, wrist suspension, gagged girl, tape gagged, struggling, breast bondage, tied tits, stretched tits, BDSM
Busty neighbor girl Lexi is dragged into the lair by her bound wrists wearing her sexy satin prom dress and stiletto heels. Her mouth is tightly stuffed, packed and sealed shut with layer of shiny white tape. He attaches her bound wrists to a chain hanging down from an overhead pulley then cranks them up high in the air, stretching her out. He grabs a spreader bar and ties it to her ankles, spreading her legs wide apart. He goes to get more rope and returns and pulls her big tits out of her satin prom dress. The ropes are wrapped around her chest just above and below her big breasts. He then begins to bind her breasts with the rope. Lexi sobs and cries into her gag as the ropes bites deep into the soft flesh around the base of her tits. Lexi looks down at her poor tits as they begin to swell and mushroom like two ripe melons as the rope tourniquet is pulled tighter and tighter with each wrap of the rope. Once both of her breasts are brutally bound and throbbing he leaves to get more rope. He comes back and ties a noose around each of her bound swollen tits then run the rope up to a pulley then ties the other end of the rope to a heavy gallon of paint. the paint can is suspended in the air by the ropes pulling and stretching her poor bound tits. Lexi struggles desperately in the cruel bondage watching helplessly as the heavy paint can swings in the air pulling, tugging and stretching her brutally bound throbbing breasts.