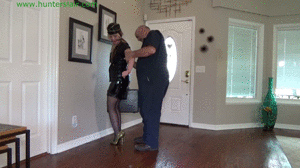 121 photos; 10:00 video
Starring Lexi Lane
bondage, Damsel in Distress, handcuffs, cosplay, uniform, big tits, shiny, high heels, upskirt, stockings, ball gag, gagged girl, cuffed elbows, thumbcuffs, cuffed tits, chains, struggling, BDSM
Pretty stewardess Lexi arrives home carrying a locked briefcase full of documents she just successfully slips through customs, cuffed to her wrist. But instead of the courier she was supposed to meet she is grabbed by brutish man as she walks in the door. He pushes her up against the wall and tells her to keep quiet as he pulls a big red ball gag out of his pocket and jams it between her teeth and straps it in tight. He pulls out a set of handcuffs and locks them around her upper arms, pulling her elbows close together behind her back. Lexi is marched over to the sofa. He unlocks the briefcase from her wrist and using the handcuff her locks her wrists together behind her back and her ankles are cuffed together with still another set of handcuffs. Lexi is left struggling on the sofa as he brut leaves her alone to make a phone call. He returns with more cuffs and locks her thumbs together with a set of thumb cuffs. She protests and begs through her gag as he pulls her big tits out of her uniform top and wraps another set of steel cuffs around the base of her big tits. She yelps in pain as the cold steel cuffs bite deep into the soft flesh around the base of her tits causing them to mushroom out and swell like two ripe melons. Then using a set of leg shackles he chain her bound tits to her cuffed ankles and moves her to the floor. The brut leaves her alone again struggling on the floor, she can hear him talking on the phone with his boss on what to do with her now. Lexi is scared and tries to crawl to the door inching along slowly hoping to get away. But she doesn't get far as he returns and discovers her futile escape attempt. He rolls her over and using a chain and padlocks her attaches her cuffed wrist to her cuffed ankles and tightens the cuffs around her tits so that they can't slip off. Lexi is left struggling helplessly on the floor sobbing and crying, wonder what will come of her at the hands of the brutal men.