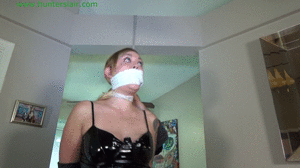 79 photos; 10:04 video
Starring Ayla Aysel
bondage, Damsel in Distress, over the knee boots, shiny, upskirt, leather gloves, nylon stockings, rope, tied elbows, gagged girl, tape gag, on screen gagging, struggling, spreader bar, crotch rope, forced orgasms, predicament bondage, BDSM
Sexy neighbor girl Ayla stands with her gloved wrists tied behind her back and her neck tethered to an overhead beam to keep her from wandering away. She wears a skin tight shiny black dress, shiny black over the knee boots and long over the elbow leather gloves. The Hunter stuffs a pair of panties into her mouth the seals her mouth shut with layers of shiny white tape wrapped tightly around her head. With her now tightly gagged he grabs a metal rod and ties it between her booted ankles spreading her legs wide apart and tightening the rope tethered to her neck. Another rope is tied around her tiny waist then pulled up between her legs, lifting the hem of her long skirt up her shapely legs. A wand vibrator is tied to the rope and then tied between her long legs so that the head of the vibrator is pressed against her pussy. He then turns on the vibrator and grabs more ropes. As her pussy is being stimulated by the vibrator the Hunter wraps the ropes around her gloved elbows and pulls them close together behind her back. Ayla's shoulders are pulled back and her chest forced out by her elbows bondage. She moans and cries into her gag as the vibrator really begins to turn her on. More ropes are then added to the vibrator to stabilize it against her pussy. The Hunter leaves poor Ayla struggling in the tight ropes, barely able to move without tightening the rope around her pretty throat. She can feel her first orgasm begin to build up inside her as her moans become louder from the pleasurable feelings between her legs. Her legs begin to quiver and shake as her orgasm builds up until she cums. Poor Ayla desperately wants to stop the vibrator but there is nothing she can do about it as she relentlessly continues to stimulate her already over stimulated pussy.