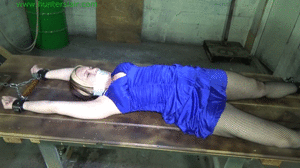 54 photos; 7:51 video
Starring Lexi Lane
bondage, Damsel in Distress, high heels, satin, fishnet pantyhose, gagged girl, tape gagged, the rack, leather cuffs, stretched, struggling, breast bondage, tied tits, zipties, BDSM
The Hunter has his pretty neighbor girl stretched out on his table with her ankles spread and locked in a set of leather cuffs to a set of rings mounted at the base of the table. Her wrists are cuffed over her head in leather cuffs attached to a chain that run up through a winch. Her mouth has been packed and sealed shut with layers of shiny white tape wrapped around her head. Lexi struggles desperately on the table not knowing what the Hunter has planned for her this day. The Hunter walks in and pulls her on her arms, stretching her out good. The he begins to turn the crank of the winch pulling and stretching his helpless victim tightly and tighter until she can barely move. Lexi can only watch and beg pitifully into her gag as the Hunter pulls her big tits out of her shiny satin dress. Her eyes go big when he shows her the zipties. Lexi groans and gasps into her gag as he wraps the nylon ziptie around the base of her left tit and pulls it tight. The hard nylon bites deep into the soft flesh around her breast, causing it to swell and bulge. She begs and cries as her other breast is bound with another ziptie. Her tits are already throbbing in pain as he wraps still another ziptie around both of her swollen, throbbing tits and ties them tightly together. He returns to the winch and cranks every bit of slack out of her body until she is stretched to her limits. He her alone to suffer on the table looking down at her poor throbbing tits as they begin to change color.