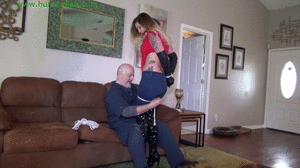 102 photos; 8:51 video
Starring Ayla Aysel
bondage, Damsel in Distress, over the knee boots, shiny, skin tight jeans, leather gloves, tied elbows, gagged girl, ball gagged, on screen tying, struggling, hogtied, BDSM
Pretty neighbor girl Ayla struggles with the Hunter as she is brought into his living room, but with her gloved wrists tied behind her back and a big red ball gag jammed between her teeth her resistance is futile. He grabs some more rope and ties her thighs and knees tightly together then pushes her onto the sofa. Ayla struggles in the ropes as the Hunters sorts through his pile of rope. He comes back and rolls her onto her back and lifts her booted legs up and ties more rope around her booted ankles. With her legs securely fused together in rope he pulls her off the sofa and onto her knees. More rope is wrapped around her gloved elbows as she struggles. Ayla gasps and grunts into her gag as her elbows are pulled tightly together behind her back. More rope is looped over her shoulder and around her chest, arms and shoulders, pinning her arms to her back. He pushes her down onto her belly and grabs more rope. The Hunter returns and ties the rope to her booted ankles then pulls her into a strict hogtie. He leaves the poor girl struggling on the carpet in bound, gagged and strictly hogtied with no chance of escaping the tight ropes.