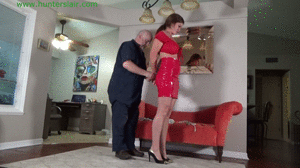 103 photos; 10:37 video
Starring Ivy Secret
bondage, Damsel in Distress, MILF, high heels, shiny, upskirt, big tits, tied elbows, gagged girl, ball gagged, on screen tying, on screen gagging, struggling, BDSM
Tall leggy Ivy contacted the lair via twitter, she had never had a real bondage experience and since she had planned a trip to our area she stop by for a visit. Dress in a skin tight red vinyl skirt and a tiny crop top that barely contained her big tits the Hunter invites her in. Ivy walks in with a bundle of ropes and a big red ball gag, she is nervous, scared but excited to know the feeling of total helplessness. The Hunter has her cross her wrists behind her back then he ties them tightly together with a short length of rope. He presses her elbows together to check her flexibility then sits her on the sofa and ties her long legs tightly together with ropes around her knees then ankles. Ivy describes her feelings as she is left to struggle with just her wrists, ankles and knees tied. The Hunter comes back in with more rope and pulls her to her feet. Ivy struggles to maintain her balance in her stiletto heels with her ankles tied as the Hunter wraps ropes around her elbows. She gasps as he pulls her elbows close together behind her back and binds them tightly together with rope. He moves her to the floor where more ropes are tied around her shoulders, chest and arms, framing her big tits in white ropes. He asks if she has any final thoughts then stuffs the big red ball gag inside her mouth and straps it in tight. He rolls her over onto her side and leaves her alone to struggle in the tight rope. Poor Ivy can barely move as she struggles on the floor as she moans and cries through her gag. Finally the Hunter returns and asks if she has had enough, Ivy is ready for freedom so the Hunter begins to untie her long legs then helps her to her feet. He removes her ball gag and asks her thoughts, her only complaint was that she didn't realizes that her hands would go to sleep. The ropes around her shoulders are unwound then he frees her elbows. She sighs in relief at having her elbows freed and having her circulation restored. The Hunter jokes with her leaving her wrists still tied behind her back. He finally unties her wrists then tells her that she has to pick up her own ropes. Ivy is all smiles having survived the cruelly tight ropes as she gathers the ropes and ball gag.