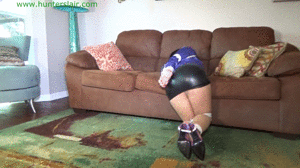 60 photos; 10:01 video
Staring Gigi
bondage, Damsel in Distress, MILF, high heels, shiny, satin, pantyhose, gagged girls, cleave gagged, tied elbows, crotch rope, wand vibrator, hogtied, struggling, forced orgasms, BDSM
Sexy MILF Gigi sits on the sofa still dressed in her office attire tightly bound and gagged. Her elbows are crushed behind her back tightly bound with rope. Her wrists, ankles and knees are also bound in ropes and her mouth is stuffed and packed tight, held in place with white elastic bandage. She struggles helplessly on the sofa trying desperately to wriggle free of the ropes but there is no slack in any of the ropes. She slides her knees off the edge of the sofa thinking that maybe she can crawl away. The Hunter comes in with a wand vibrator and with her knees on the floor and her ass in the air he pressed the vibrator between her legs with the head against her pantyhosed covered pussy. Gigi squirms and wriggles as she tries to get away from the vibrator. The Hunter decides that she needs more prolonged stimulation and goes to grab more rope. He lift her onto the sofa and ties a crotch rope between her legs and then ties the head of the vibrator to her pussy with the crotch rope and turns it on. Gigi screams in protest into her gag as the vibrator begins to stimulate her pussy. He moves her to the floor on her belly with the head of the vibrator pressed against her pussy then her hogties her with more rope. Gigi cries of protest change to moans of pleasure as the vibrator stimulates her pussy, she can feel an orgasm building up inside her. The Hunter leaves her alone helplessly bound, gagged and hogtied to enjoy her forced orgasms.