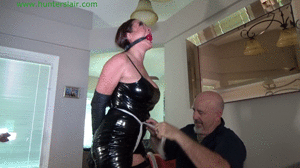 119 photos; 9:55 video
Staring Nyssa Nevers
bondage, Damsel in Distress, Asian, big tits, over the knee boots, shiny, spandex, leather gloves, upskirt, ballgag, gagged girl, struggling, crotchroped, breastbondage, tied tits, tied elbows, BDSM
Busty Asian bimbo Nyssa is pushed into the living room with her leather gloved wrists tied behind her back with rope and a big red ballgag jammed between her teeth. The Hunter ties a rope around her slender waist then pulls the rope down between her long legs and buries the rope deep in her sexy black lace panties. He runs the rope up between her bound wrists and then pulls the crotch rope tight. The crotch rope slices deep into her pussy and pins her hands to her ass as he runs the rope back down between her legs and then up into her cleaved pussy to her waist where he ties it off. Nyssa cries into her gag as he sits her down on the sofa, the act of sitting pulls the crotch rope even deeper and tighter into her pussy and ass. She can only watch helplessly as the Hunter ties her booted ankles tightly together with more rope. He leaves her alone to struggle telling her that he will be back with even more rope. Nyssa looks up begging with her eyes as the Hunter returns with more rope and pulls her big tits out of her skin tight dress. He wraps the long rope around her shoulders, arms and chest, framing her big tits with the white rope and pulling her elbows close together behind her back. Once her big breasts are framed in the rope he ties still another rope between her tits and begins to wrapped the rope around the base of each of her tits in a tourniquet of rope. Nyssa looks down at her poor tits as they are brutally bound and begin to swell and bulge as the rope bites deep into the soft flesh around the base of her tits. Once each of her tits are tightly bound and throbbing he wraps the remainder of the rope around both of her bound swollen tits and ties them together. He then pulls her to her feet and as poor Nyssa struggles to keep her balance on her bound stiletto heels he wraps more ropes around her elbows. Nyssa gasps into her gag as he pulls her elbows almost together behind her back and wraps more and more rope around her arms before cinching them tightly together. She can feel her poor elbows pulled closer then she has experienced in years as he weaves the remaining rope down her leather gloved forearms pushing her elbows even closer together. He moves poor Nyssa to the floor and leaves her alone struggling and helpless with her elbows pulled tightly together and her tightly bound tits throbbing and swelling like two ripe melons.