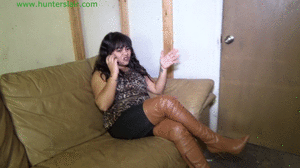 99 photos; 10:42 video
Starring Vanessa Luxx
bondage, Damsel in Distress, BBW, babysitter, over the knee boots, spandex, POV, handcuffed, ballgag, gagged girl, struggling, hogcuffed, BDSM
Auntie Vanessa chats on the phone with her girlfriend explaining why she won't be making it to the party tonight. She was all dressed and ready to go out when her sister called in a panic. She needed Vanessa to watch her neices for the weekend because she got called out of town on business. Then to make matters worse the girls were supposed to go to a slumber party but instead then got in trouble and are now grounded for the weekend so no slumber party. The girls are awful quiet making Vanessa suspicious, she calls for them to bring her some water. The girls show up giggling at each other as they hand their pretty Aunt her water. She dismisses the girls back to their room and takes a gulp of water. Vanessa thinks that the water tastes funny and demands to know if the girls did something to her water. She tries to stand but suddenly feels nausous and dizzy. Vanessa slumps back onto the sofa to rest a minute but the room keeps spinning around and around as she fights to keep her eyes open. But then everything goes black. She awakens later still on the sofa moaning as she begins to become aware. She feels tight steel bands around her wrists and tries to move her hands but realizes that the girls have handcuffed her hands behind her back with a pair of steel police handcuffs. She looks down to see her booted ankles locked tightly together with another set of handcuffs. Vanessa struggles on the sofa calling for the girls to come back in here and take off the cuffs. She struggles onto the floor and looks around for the keys to the cuffs. She hears the girls come back giggling and laughing, Vanessa demands the key and the girl toss the handcuff key on the floor by her hands. Vanessa struggles for the key searching blindly with her hands behind her back. She finally grabs the key and then tries to find the key hole on the cuffs to remove them. But something is wrong, she can't find the keyhole, she asks the girls to help her but they just laugh and giggle and inform her that they put super glue in the key holes. Vanessa looks up at then in anger how the hell are do they plan on getting the cuffs off. But they tells her that they don't have any plans to remove the cuffs, no they are going out to the slumber party and will be gone all weekend. Vanessa is fuming mad now demanding that they call someone to cut the cuffs off but instead they pulls out a black rubber ball attached to a strap and dangle it in front of Vanessa's face. Vanessa realizes that they intend on gagging her with the ballgag and leave her handcuffed and helpless all weekend. She demands that they stop with this foolishness now and call someone. But they just come closer with the ball gag. Vanessa is now ballgagged and hogcuffed on the floor. A steel chain has been locked her handcuffs and runs up between her cuffed ankles with her legs bent and her booted heels pulled up to her hands. She sees the girls with their backpacks and blankets and hears them leave the house as she screams and cries into her gag for help. But there is no help to be had, no one knows she is alone and left helplessly hogcuffed for the weekend expect her two bratty nieces and they aren't going to be telling anyone.