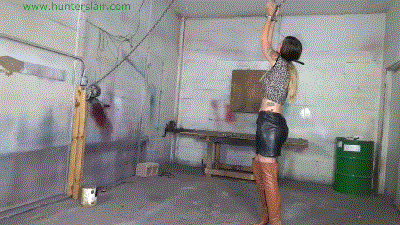 98 photos; 12:00 video
starring Ayla Aysel
bondage, damsel in distress, handcuffs, Irish eight cuffs, over the knee boots, leather mini skirt,, upskirt, ballgagged, gagged girl, struggling, stretched, the rack, BDSM
Pretty girl nextdoor, Ayla hangs by her cuffed wrists in the lair awaiting the Hunter. Her wrists are locked and cuffed together in steel Irish eight cuffs and her cuffs are attached to a chain running up through an overhead pulley. A ball gag has been jammed between her teeth and strapped in tight to keep her quiet. Ayla struggles desperately in the steel restraints kicking and stretching her stiletto heeled boots at the winch in a futile attempt to free the ratchet. The Hunter comes in and cranks the winch, pulling and stretching Ayla's cuffed wrists high above her head. Ayla stretches up onto her toes to keep the cold hard steel from cutting into her wrists as the Hunter prepares his table of torment. She watches helplessly as he attaches steel shackles to the rings mounted at the base of his table. Then he releases the winch and allows poor Ayla to lower her poor stretched arms. He frees her wrists from the chain and moves her over onto his table where he locks her booted ankles to the shackles attached to the rings. With her legs spread and ankles cuffed to the rings he wrists are then pulled up over her head and attached to a chain running up to a winch mounted high above her head. The Hunter then cranks the winch, pulling he stretching her tight lean body out on his table. He leaves poor Ayla bound, stretched and helpless on his table.