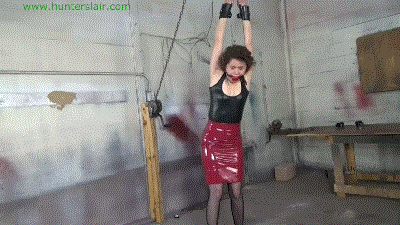 9 photos; 10:42 video
starring Bailey Paige
bondage, damsel in distress, high heels, shiny, leather cuffs, ball gagged, gagged girl, struggling, stretched, spanking, flogging, cropping, BDSM
Bratty Bailey finds herself strung up by her leather cuffed wrists in the lair. Her hands are locked in leather cuffs attached to a chain hanging down from an overhead pulley. A big red ballgag that stretches her jaws painfully open has been jammed between her teeth to keep her quiet. She struggles desperately in the cuffs kicking at the winch in a futile attempt to escape before the Hunter comes in to punish her. But her struggles are in vain as the Hunter returns, he cranks the winch pulling and stretching her arms high above her head until her stiletto heels are lifted from the floor. He then shows her a leather riding crop and a leather cat-o-nine tails flogger. He then swats her ass with the leather riding crop, Bailey kicks, twists and turns trying to avoid the riding crop. So he grabs another set of leather cuffs and locks her ankles together with a padlock. He then unzips her skin tight shiny pencil skirt and begins to swat her ass again with the riding crop. Bailey screams and cries into her gag as her ass is beat with the crop. He then pulls out his cat-o-nine tails and begins to whip and flog her ass with the leather cat. Bailey struggles to avoid her punishment but there is little she can do to save her ass. The Hunter keep alternating between the cat and crop until Bailey poor ass is beat red and stripped. He then hangs the cat on the chain by her hands and leaves her hanging there helplessly by her cuffed wrists. Drool flows past her ball gag and down her chin and chest sobbing and crying. The Hunter leaves but promises to return soon to continue her punishments.