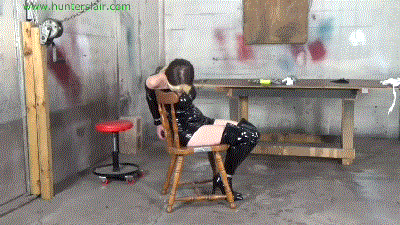 33 photos; 10:30 video
starring Lexi Lane
bondage, damsel in distress, shiny vinyl, over the knee boots, shiny, steel bondage, hose clamp bondage, ball gagged, gagged girl, struggling, big tits, breast bondage, nipple clamps, chair tied, BDSM
The Hunter decided he wanted to do something a little different, so he turns to his go to guinea pig, Lexi, who is up for anything related to bondage. She sits in a chair with her arms welded behind her back and her ankles bound in steel hose clamps. She can feel the tight steel bands cut deep into her flesh despite the shiny vinyl sleeves of her skin tight dress. A ball gag has been strapped tightly between her teeth. She struggles helplessly in the chair testing the limits of the inflexible steel bands fusing her arms and ankles together. The Hunter comes in with a cordless screw driver and tightens the hose clamp around her elbows until they are crushed completely together. Then he unzips the front of her vinyl dress to expose her big tits that are already swollen and bulging with a set of hose clamps wrapped tightly around the base of her tits. The Hunter uses the power screwdriver to tighten the hose clamps around the base of her tits until the tight steel cuts and bites deep into her flesh. She looks down in fascinated horror at her brutally bound throbbing tits. But the Hunter isn't finished with his little sadistic experiment as he wraps another hose clamp around the base of both of her bound swollen breast and tighten the new clamp with the power screw driver, binding her poor tits close together. As if the brutal hose clamps weren't enough for her to endure he pulls out a set of nipple clamps and attaches then to her swollen, sensitive nipples. He leaves her alone to suffer in the cruel hose clamped bondage. Poor Lexi can do nothing but look down a her poor swollen bound tits as they begin to change color. Her arms are totally useless to her with the tight steel bands cutting deep into her flesh. Lexi is a tough girl but being brutally bound in hose clamps seems a little much. She only sit and hope that the Hunter won't leave her alone like this for very long.