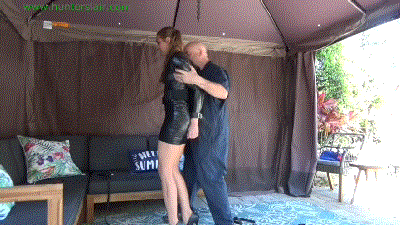 83 photos; 9:05 video
starring Sadie Holmes
bondage, damsel in distress, high heels, upskirt, shiny, leather belt bondage, hand over mouth, tied elbows, crotch tied, gagged girl, ballgagged, on screen gagging, head harness, struggling, BDSM
The Hunter is having a party and has invited leggy Sadie over to be the entertainment. Little does she realize what sort of entertainment he has in mind for her until it is too late. Now dressed in a skin tight shinny black dress, six inch stiletto heels and leather belts fusing her arms tightly together behind her back she is brought out to his gazebo. Sadie isn't very happy about having her arms welded together behind her back, her elbows crushed together and tettering in six inch heels she whines and complains as the Hunter wraps another leather belt around her tiny waist and arms then buckles it tight constricting her already narrow waist and fusing her arms to her spine. He then wraps another belt around her long legs, just above her knees and ties her knees tightly together. She protests and complains as another leather belt is pulled between her legs and buried deep in her pretty red lacy panties. Then her eyes go big as he pulls out a leather head harness, ballgag contraption, she tries to slip away but with her knees strictly bound she doesn't get far. Her protests are silenced as he stuffs the big red ball in her mouth, forcing her jaws painfully open then tightens all the straps locking the big red ball between her teeth. He then attaches a chain that hangs down from the peak of the gazebo to the ring at the top of the leather harness gag to keep her from wandering off. Sadie continues to whine, bitch and protest into the gag as her slender ankles are belted tightly together with another leather belt. The Hunter as more belts left and uses them to cinch all the belts around her tiny waist tight. He tells poor Sadie that she is going to be left bound all day during the party as his center piece. Sadie continues to protest into her gag but there is nothing she can do about it as he pulls the top of her dress down to expose her erect nipples and tits. He leaves her bound and helpless so he can get ready for his guests. Sadie's poor feet already ache in the crazy six inch stiletto heels but there is nothing she can do about it. She doesn't know how long he intends to keep her bound and gagged but his parties usually last well into the night. She cries in frustration and jiggles her body trying to move but she is absolutely helpless bound in the tight leather belts.