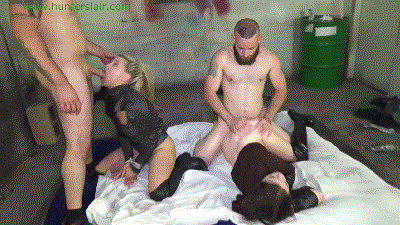 8 photos; 12:31 video
starring Anastasia Rose and Maria Jade
with Mile Striker and John Cash
bondage sex, bondage blowjobs, bondage, damsel in distress, cum shot, face fucking, cum swallowing, over the knee boots, leather gloves, handcuffs, nude, turtleneck sweater, lesbian, rope, struggling, cocksucking, BDSM
The thugs pull the girls to their knees and make them suck their cocks until they cum. Maria's man cums first into her mouth and doesn't let her swollow or spit it out, instead they pull poor submissive Anastasia over and order Maria to spit the cum into Anastasia's mouth and make Anastasia swollow it. Then the thug that didn't cum yet has both girls suck his cock until he cums. Maria is once again the lucky recipient of the cum load and once again she isn't allow to swallow it or spit in out. Instead poor Anastasia's mouth is held open as Maria is ordered to spit the second load of cum into her lover's mouth. Anastasia swollows the load of cum again. The men now sated leave the girls still bound and helpless, the girls hug each other hoping that their ordeal is over.