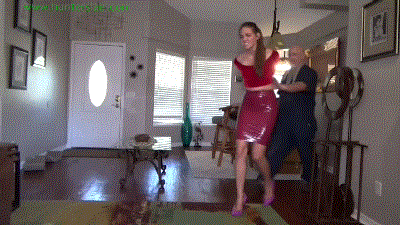 75 photos; 9:01 video
starring Sadie Holmes
bondage, damsel in distress, high heels, velvet, shiny, tied up, rope, tied elbows, tape gagged, on screen gagging, hogtied, BDSM
With her arms fused tightly together behind her back leggy Sadie is pushed into the living room. She bitches and complains about the tight ropes biting deep into her upper arms and wrists. She can feel her elbows kissing behind her back and doesn't like it one bit. But the Hunter ignores her protests and ties her knees tightly together. Sadie continues to complain now about having her knees tied together and trying to balance in her stiletto heels. She kicks at him by her with hobbled knees her kicks are feeble. More ropes are wrapped around her chest, shoulders and arms pinning her arms to her back as Sadie continues to bitch and complain. Finally the Hunter as had enough of her constant sniveling and whinning. He pulls a bandanna out of his pocket and stuffs it deep in her mouth, then he seals her big mouth shut with layers of shiny red tape. Sadie snorts into her gag furious at being gagged, the Hunter looks around for some rope to bind her ankles then tells her to stay put as he goes to get more ropes. Sadie struggles desperately in the ropes looking around for a place to run and hide, but with her knees cinched tightly together she knows that she can't get very far and the Hunter returns before she can make up her mind. He bends down and ties her ankles tightly together as Sadie's eyes go wild in terror as she struggles to keep her balance to keep from falling over. Once her ankles are tightly bound he pushes her down onto her knees and runs a rope from the ropes around her arms down between her now bound stiletto heels. Sadie continues to complain and whine into her gag as she is hogtied on her knees. She is then pushes to the floor and the hogtie ropes are tightened so that her stiletto heels are tied to her wrists. He leaves her alone to struggle in the tight ropes. Sadie rolls around on the floor but that is about all she can do in the cruelly tight hogtie. She pulls helplessly at the ropes but realizes that she is totally helpless, there is no escape. She sobs and cries into her gag wonder how long the Hunter plans on leaving her like this.